So I got banned by another site, and not the site I am going to mention in this post, and I can imagine the otherkin who accomplished getting me banned, doing their little victory dance for months on end – i am not mad because I realized that that is just how stupid and immature they are, and i am one step ahead of this shit……. since they cannot talk about anything else; other than how hated they are, and how good they are AT HATING those who apparently HATE THEM too……. they cannot teach people shit, they cannot speak about anything else other than how special they are, and how they deserve superior attention apart from anybody else on this planet…….but they never give valid reasons as to why anyone with a half a brain should take them seriously as in proving themselves to be spiritual leaders or teachers…….no they don't do that, see they are just those things without having to work on themselves or to prove their skills………..it is all pretend and a downward spiral from there.
Then I came to a tumblr post, a guy was banned from some other asinine otherkin site, who proves yet again HOW BAD THEY ARE WHEN FACED WITH CONFLICT, they would rather AVOID IT BY BANNING KIDS who know they are full of shit, than proving that they are not – maybe because that is just easier, because they simply CANNOT PROVE THAT THEY ARE NOT FULL OF SHIT.
Here is another piece of proof how they gang up on people because they don't get royal treatment, again: i cannot understand why they are entitled to ROYAL TREATMENT when they TREAT OTHER HUMANS THAT ARE NOT AS SPECIAL AS THEY ARE LIKE TRASH….and when  they want to dehumanize humans; saying how they want to kill them for stealing their rightful otherkin terrority – slang for HUMANS stealing their shine, for apparently WORKING HARDER to get somewhere in life, and not just sitting in front of the internet all day playing games hoping success will just fall on their heads with a snap of a finger……… also saying how they want to deprive humans of free speech and other HUMAN rights, that only the OTHERKIN (NON HUMANS) are entitled to…how ironic.
It seems that the otherkin find great joy in publicly humiliating anyone (otherkin or not) online…anyone who opposes them or who they just cannot stand………. yeah that is part of their sadistic natures – acting tough online, but offline being total wimps…they have no story or life outside of the internet. They sit like zombies 24/7 in front of their computers, waiting to TROLL whoever stumbles across their "HISTRIONIC – NARCISSISTIC ATTACK" OF being "GOD" in their own right, thinking getting someone banned from an online site is the same as showing to their clan, pack or cult that they are capable of murder and great displays of power – but it all comes down to cowardice really, and how they are incapable of growth in the first place, not being able to speak to people like adults, and not being able to STAND CONFLICT, a total inability to deal with it…..they cannot stand being confronted in any sense…….because they are spineless shitheads…who cannot think further than their low-self esteem crisis AKA their special snowflake syndrome…………in their heads they must be special at all times or they will just die of shame……..showing how much they really hate themselves…….and how little faith they really have in themselves……….. there is this sick delusion they all share………that they are gods and everyone who treats them otherwise must be destroyed………..they deem themselves untouchable ONLINE, because in REAL LIFE they are being TOUCHED TOO MUCH you see………..they cannot feel victimized online too. Anyhow if you can make sense of this diatribe a round of applause to you!
Basically it all comes down to the otherkin always putting themselves on a pedestal ONLINE because they are too afraid of falling ONLINE because if they FALL ONLINE they would FALL IN REAL LIFE – which life expectancy is holding on for dear life in REAL LIFE OUTSIDE OF THE VIRTUAL HAVEN they dwell in……..
Fuck yeah, they are depressed son of a bitches……..with dim hopes on life…hence living ONLINE, and unable to stand the thought of them EVER BEING UNPLUGGED from the INTERNET SYSTEM that keeps them ALIVE in another dimension of digital technology…….. I think I understand the matrix a little bit better now – it is about people who cannot face the music or the shit EVER……. and live in a world of LA LA LAND instead to avoid ever seeing IT.
On a last note – when they ban those who STIMULATE THEM THE MOST, who they CAN TROLL ALL DAY…..then they TRULY REMOVE the main seat of their entertainment………..and it is fine by me……..because sometimes you just have to let trolls starve….and not give them what they desperately want – attention. Because they are threatened by people who MAKE THEM THINK because they KNOW THEY CANNOT THINK…and use the antagonist as a scapegoat for their frustrations in life…….you are basically a punchbag for their unresolved mental issues, that is all……when they troll you, you are nothing but a doormat……..because they cannot solve their problems, and take it out on people around them instead…and that will never stop………the art is TO REMOVE YOURSELF FROM THEIR SIGHT……and GET THEM TO TROLL EACH OTHER………so that they can reveal their true natures to their fellow otherkin, to turn them against each other, to make them see themselves for what they truly are – BRAINDEAD ARSEHOLES WITH ISSUES THEY DON'T HAVE THE ABILITY TO SOLVE.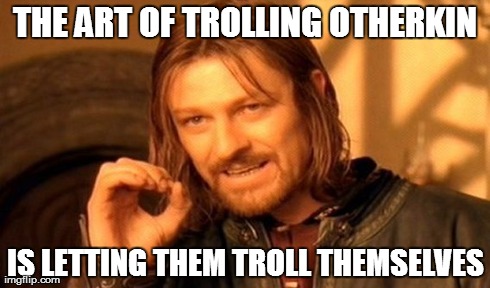 Another article that caught my attention is OTHERKIN cursing feminists for being anti-otherkin: in my opinion if you get shunned by a feminist it is because you are full of shit in the first place, and secondly NOT INTELLECTUALLY EQUIP ENOUGH TO REALIZE IT.